2020 Long(est) Day of Golf
October 12, 2020 at Rich Harvest Farms, Sugar Grove, IL
12th Annual Golf Fundraiser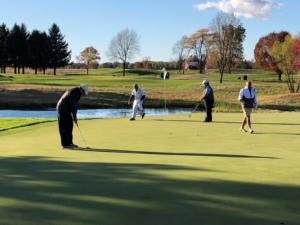 For over 10 years, golfers have been raising funds for medical repurposing research at Cures Within Reach's annual LDOG event. In 2020, we again played at Rich Harvest Farms, an exclusive private course rarely accessible by non-members and named the 5th best new private course in the US by Golf Digest when it debuted in 1999.
While the COVID19 pandemic continues to be a critical focus for everyone, we rescheduled this event to Monday, October 12, 2020.  A day on the golf course was a needed date on the calendar.  We can be physically distant without being socially distant!  
Funding Game-Changing Clinical Trials that Make Real Patient Impact
Prior to October 12, registered golfers donate or raise at least $1,500 ($6,000 for a foursome) for Cures Within Reach to support our mission: driving more treatments to more patients through repurposing.
The COVID19 pandemic has brought to the forefront the opportunity that drug repurposing provides.  With over 600 fast-tracked clinical repurposing trials to treat COVID19 patients, there has been unprecedented attention on the opportunity of quickly testing drugs that are already safe and effective for one disease in clinical trials to treat another disease.
In 2020, a portion of the proceeds from this event helped to fund four infectious disease projects, including our first in health disparities.  Read more about these projects on our Current Projects page.
Can Vitamin D Reduce the Burden of COVID-19 in Chicago? in Black and Latinx communities led by Dr. Meltzer at University of Chicago

Repurposing an Antidepressant (fluvoxamine) to Prevent Hospitalization in COVID-19 led by Dr. Rado of Northwestern University's COVID-19 trial using fluvoxamine is the follow-on to the pivotal study at Washington University in St. Louis

Repurposing a Flu Treatment for Severe Dengue Patients led by Dr. Chang at George Washington University

Treating Tuberculosis with the Lipid Lowering Drug Atorvastatin led by Dr. Adewole at Obafemi Awolowo University in Nigeria
Past events have supported clinical trials in:
Oncology: metastatic thyroid cancer, brain cancer, prostate cancer, pediatric cancer
Pediatric Diseases: autoimmune diseases, oncology, rare liver disease, malnutrition
Neurological Diseases: Alzheimer's disease, autism
Supporting Our Golfers
Cures Within Reach supports our golfers fundraising by providing:
Individual donation web pages
Print and social media materials to share
Documents to support corporate matching and company sponsorship of a player or team
Lunch plus post-golf food / beverages are included, as well as an optional tour of owner Jerry Rich's private Car Museum.