2022 Golf Fundraiser
Monday, June 6, 2022
Rich Harvest Farms, Sugar Grove, IL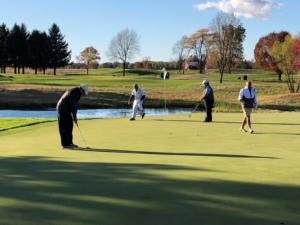 For over 10 years, golfers have been raising funds for medical repurposing research at Cures Within Reach's annual golf event. In 2022, we again played at Rich Harvest Farms, an exclusive private course rarely accessible by non-members and named the 5th best new private course in the US by Golf Digest when it debuted in 1999.
The COVID19 pandemic shined a spotlight on what we've known for over a decade: the fastest way to therapeutic impact is testing already approved therapies for new indications in randomized controlled trials.  We support quickly testing drugs, devices and more that are already safe and effective for one disease to treat another disease.
In 2022, a portion of the proceeds from this event helped to fund our ongoing initiatives, including impacting pediatrics, veterans and in Diversity, Equity & Inclusion.
Thanks to our 2022 Sponsors!
| | | |
| --- | --- | --- |
| | | |
| | | |
| | | CR Robinson, the Wilk Family, the Michelon Family, Midland States Bank, Miracle Restaurant Group, Schwartz Capital Group, Stan Johnson Co and the Taxman Family Foundation. |
email admin@cureswithinreach.org to become an event sponsor!
Funding Game-Changing Clinical Trials that Make Real Patient Impact
Prior to June 6, registered golfers donated or raised at least $1,500 ($6,000/foursome) for Cures Within Reach to support our mission: testing already approved treatments for new indications – driving more treatments to more patients through repurposing.
Past events have supported clinical trials in:
Infectious Diseases: COVID19, tuberculosis, dengue
Neurological Diseases: Alzheimer's disease, autism
Oncology: metastatic thyroid cancer, brain cancer, prostate cancer, pediatric cancers
Pediatric Diseases: autoimmune diseases, oncology, rare liver disease, malnutrition, hearing loss, vascular malformations
Supporting Our Golfers
Cures Within Reach supports our golfers fundraising by providing:
Individual donation web pages
Print and social media materials to share
Support for corporate matching and company sponsorship
Included: 18 holes, lunch, post-golf food and beverages, plus a tour of owner Jerry Rich's private Car Museum